In 1986 energy company Conoco drilled a conventional exploration well on the Lower Stumble site situated half a mile from Balcombe village. With the advent of high volume hydraulic fracturing, Unconventional Gas Exploration company Cuadrilla Resources returned to the site with the intention to frack for shale oil and gas.
25th Jan 2010 – Cuadrilla applies to West Sussex County Council (WSCC) for permission to drill a test well.
Feb 2010 – Balcombe Parish Council (BPC) receives the application details but does not follow procedure, fails to circulate application details to residents and Simon Greenwood (landowner & councillor) fails to declare his interests.
Feb 2010 – WSCC has an incomplete discussion of the application which is incorrectly reported in their minutes.
Feb 2010 – WSCC emails BPC to ask for their decision, BPC clerk emails back minutes later 'no objection'.
23rd Apr 2010 – WSCC grants permission by delegated decision.
Jan 2012 – Residents challenge BPC at their monthly meeting about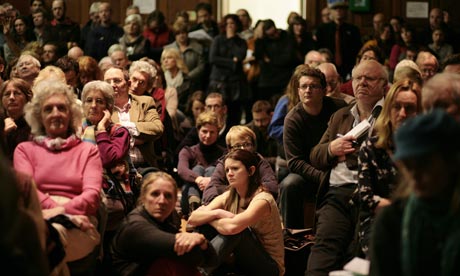 their incompetence. BPC set up fact finding committee.
11th Jan 2012 – Public meeting in Balcombe where hundreds of angry villagers confront Cuadrilla and BPC and WSCC who rubber stamped the planning application.
Feb to May 2012 – Fact finding committee meet with key residents, industry and Caudrilla. Many residents are excluded from the process.
June 2012 – BPC published their Report
10th Sept 2012 – Results of Parish Council Poll published, 82% or respondents oppose drilling.
3rd May 2013 – Closed meeting between BPC and Cuadrilla to discuss impacts.
12th June 2013 – Environment Agency (EA) conduct a site inspection to check that the only activity on site is the drilling of a monitoring borehole.
14th June 2013 – Cuadrilla apply to EA for mining waste permit after pressure from Friends of the Earth (FOE). The public consultation runs until 16th July, determination 24th July.
24th June 2013 – BPC meet with EA to discuss the application, flaring, water course flow and company structure.
11th July 2013 – Cuadrilla apply to WSCC for a 6 month extension to their planning permission.
16th July 2013 – Cuadrilla apply to EA for accumulation and disposal of naturally occurring radiation (NORM) permit (public consultation runs until 13th August).
23rd July 2013 – Drill rig and initial equipment arrive on site, a small contingent of residents and Frack Watchers are present.
24th July 2013 – Mining waste permit approved by EA 5 days afer consultation ends despite 900 comments received.
The Balcombe Blockade Starts
Residents of Balcombe and Sussex converge to blockade the drill site and resist Cuadrillas activities. The Great Gas Gala website provides information about the blockade!
25th July Day 1 – People converge on site. The first trucks are stopped and a camp begins to be setup.
26th July Day 2 – 100 police officers are drafted in to escort trucks onto the site. Police use pressure points to remove protectors from a log in front of the site gates, 16 arrests.
27th July Day 3 – Cuadrilla violate the conditions of their planning by moving vehicle onto site after 1pm on a Saturday. Local residents challenge the Police with copies of planning conditions. Police announce that vehicles have stopped at 3.10pm.
28th July Day 4 – The blockade continues to grow with about 80 people on site. Locals bring down food to feed everyone.
29th July Day 5 – 30 people or more are now staying on site overnight.
30th July Day 6 – The police develop a wedge shaped cordon to push trucks through.
31st July Day 7 – Two people superglue themselves together, locking the gate of the Cuadrilla fracking site.
1st Aug Day 8 – Alison Stevenson chairwoman confirms that Balcombe Parish Council now oppose Cuadrillas application for an extension to planning and did not understand the full implications of the original application link.
2nd Aug Day 9 – Community groups from Lancashire visit to show their support.
3rd Aug Day 10 – Balcombe villagers announce the result of their own survey: 85 percent against, 9 percent undecided, 6 percent for.
6th Aug Day 13 – The first arrestees attend Crawley Magistrates Court.
8th Aug Day 15
11th Aug Day 18 – A 600 strong choir sings outside the site.
12th Aug Day 19
13th Aug Day 20 – Residents from Holland visit the site to see what Cuadrilla has planned for them.
14th Aug Day 21 – More arrestees appear at Crawley Magistrates Court and have bail conditions dropped (mostly Section 241 of Labour & Trade Union Act).
15th Aug Day 22
16th Aug Day 23 – WSCC closes footpath from village with razor wire and blockades recreation ground with concrete blocks.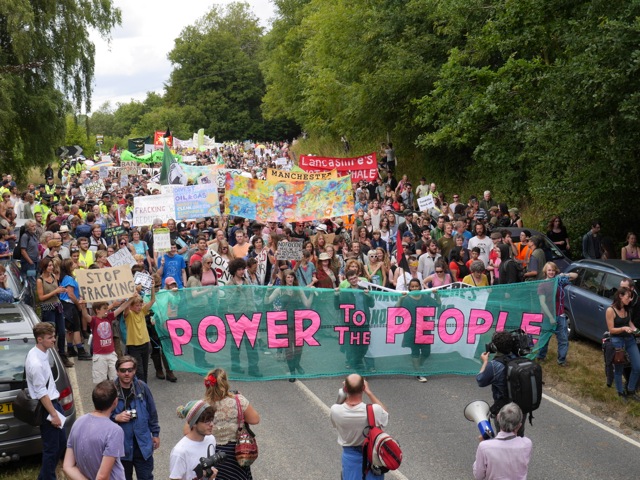 17th Aug Day 24 – Police aggressively force a truck through the blockade violating vehicle movement restrictions specified in Cuadrillas planning permission.
18th Aug Day 25 – 2000 people from all over the UK march from Balcombe station to the site.
19th Aug Day 26 – Police close the road and arrest 29 protectors including Caroline Lucas MP.
20th Aug Day 27 – 21st Aug Day 28 – 27th Aug Day 34
28th Aug Day 35 – 30th Aug Day 37
1st Sept Day 39 – The second big choir event at site, 500 attend.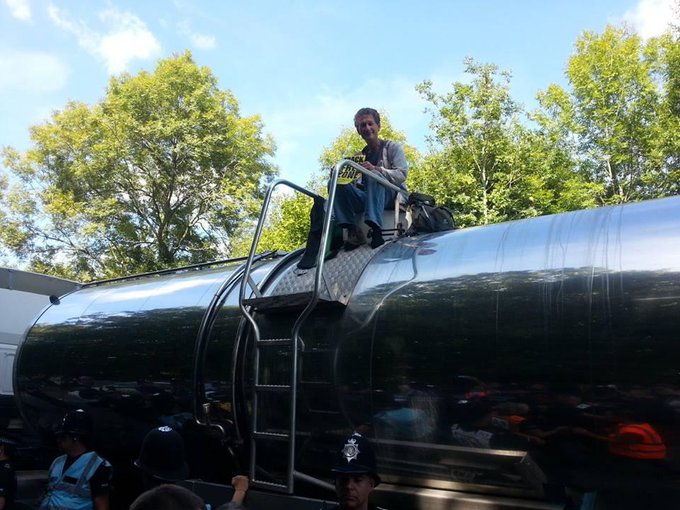 2nd Sept Day 40 – A single protector climbs and locks onto a tanker blocking the road for some hours.
3rd Sept Day 41 – Cuadrilla withdraw their application for a 6 month extension to their planning permission as it is "legally ambiguous".
4th Sept Day 42 – 5th Sept Day 43 – 6th Sept Day 44
7th Sept – Cuadrilla temporarily stop drilling and erect sound baffles due to noise monitoring report showed that sound levels during drilling peaked 20pc higher than allowed.
9th Sept Day 47 – Coordinated attack on right to protest in Balcombe: WSCC posts notice suggesting legal action if camp does not leave by 9am, Police issue Section 14 notice attempting to limit where people can protest, main stream media write large number of untrue articles saying the camp will be evicted on Tues.
10th Sept Day 48 – 11th Sept Day 49 – 12th Sept Day 50
13th Sept – Court papers served on camp. WSCC seeking a possession order for the B2036 London Road, Balcombe.
16th Sept Day 54 – High Court case adjourned, West Sussex County Council's possession order described by Mrs Justice Lang as "flawed".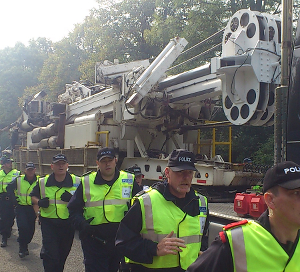 19th Sept Day 57
26th Sept – Drill leaves site. 124 arrests in total.
27th Sept – Cuadrilla submit new application for exploration.
28th Sept – Cuadrilla's planning permission ends.
30th Sept Day 68 – Protectors start leaving the site.
Read More…
Fracking In Balcombe: A Community Says No