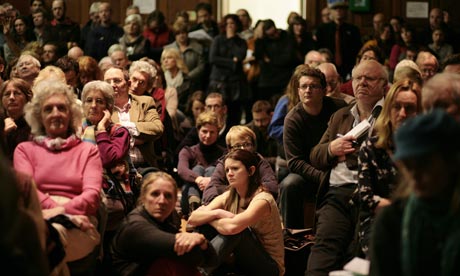 Cuadrilla boss Mark Miller received a tongue lashing at a public meeting in Balcombe, West Sussex, last night.
300 people – including 100 standing – packed Balcombe's Victory hall to hear the Cuadrilla CEO expound on the company's controversial Hydraulic Fracturing technique, scheduled to take place a mile from the village.
(Listen to a recording of the Q&A here)
Miller, a US citizen, struggled to finish his presentation amid catcalls of 'get out' and 'stay away from here' broke out through the audience.
Chairman Charles Metcalfe repeatedly asked for calm, but an increasingly angry crowd continually interrupted in an emotional meeting unheard of in the quiet Sussex village. Mr Miller – attempting to explain the company's track record of causing earthquakes in Lancashire – struggled to make himself heard as questions and derision were thrown thick and fast.
Balcombe is scheduled to be Cuadrilla's first fracking site outside Lancashire. The company received planning permission in June 2010, and planning documents reveal the company intends to frack at this test borehole. The fracking depth is 2660 feet – 6000 feet shallower than in Lancashire.
The breadth of Balcombe's interests was also revealed – a risk insurer asked why Cuadrilla had not performed risk assessment prior to drilling. A geologist pointed out that Cuadrilla's own documents show potential leaks of fracking fluid coming within 400 feet of the surface at the Balcombe site.
Also present for Cuadrilla was Nick Sutcliffe, representing Cuadrilla's lobbying firm, PPS Group. Sutcliffe is a Guildford District Councillor, and has facilitated Cuadrilla's planning applications – much to the disgust of the audience present.
West Sussex County Council and Balcombe Parish Council were not spared the meeting's wrath. A WSCC councillor braved the audience to explain that procedures had been followed, while a Balcombe parish councillor explained: 'we were asked about this two years ago. Who knew about hydraulic fracturing then?'.
Listen to a recording of the Q&A here…