Contents
Jump straight to:
Introduction
Over a year into the fracking industry's latest offensive against local communities the sustained resistance it has provoked its having significant effects. Any major fracking project you can think of is either stalled or running well behind schedule. With over 300 community groups (and rising) pitted against an industry currently starved of investor cash due to low oil prices, the impact of these delays (and the associated increased costs) are not inconsiderable. The fracking industry is busy gathering geological and social data (how much costly disruption would there be to production) with the intention of securing further investment when oil prices inevitably rise again, and the current resistance is slowing down gathering of geological data while producing social data which will worry potential investors.
Cuadrilla's flagship project at Preston New Road in Lancashire is the largest fracking tests planned to date in the UK, is running 8 months behind schedule and counting, and has already been scaled back from 4 wells to just 2. Meanwhile on the other side of the country Third Energy is going nowhere with their project at Kirby Misperton and Ineos has had 3 planning applications rejected and is having trouble completing its seismic survey in the East Midlands (see below for details). Many areas including Derbyshire, Nottinghamshire, Surrey, Sussex, and Yorkshire are under increasing threat from the fracking industry and even if you don't live in one of these areas, the tentacles of these threatened fracking sites spread far and wide, with trucks hauling frac sand, radioactive liquid and solid waste and equipment across the country from Aberdeen to Great Yarmouth.
Take Action
What can you do? Everyone can make a difference in the fight against fracking:
Get organised: Is there a anti-fracking group defending your community? If so, join it! If not, form one!
Spread the word: Organise public meetings, film screenings, street stalls etc.
Support other communities: At any point in time various communities are under threat and need your solidarity
Do you live near a fracking support site? Check out our factsheet detailing Cuadrilla's plans. Your community may be threatened with impacts (e.g. fracking waste being dumped or transported through your community) even if you live hundreds of miles from Lancashire.
Frack Off can help with information, support or outreach materials. Contact info@frack-off.org and see our get involved page.
Latest News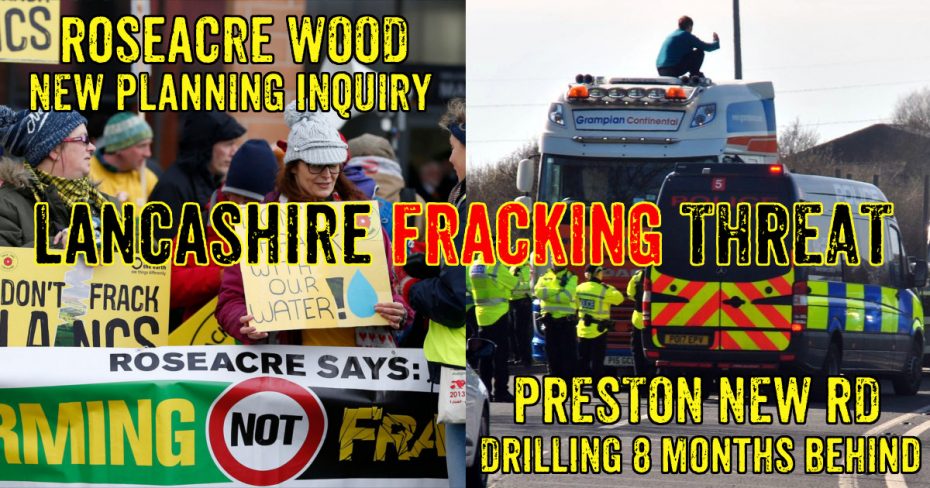 Ongoing Resistance To Fracking In Lancashire
Fracking company Cuadrilla Resources has been working on its frack pad at Preston New Road for 1 year and 3 months, and has just announced that it has completed drilling of the first well. This puts the company approximately 8 months behind its original schedule, and even allowing for unforeseen technical problems this is a testament to the impact of continuing resistance from local communities, and the rolling blockade outside the site. Resistance has also spread to sites supporting the construction with regular popup demos outside various support sites. Cuadrilla's original plans called for drilling and hydraulically fracturing 4 horizontal wells at the Preston New Road over a 2 year period, but this has been scale back to 2 wells in the face of the ongoing resistance. These plans will require upto 20,000 truck movements and produce millions of gallons of toxic and radioactive liquid waste. A second site at Roseacre Wood still doesn't have planning permission with a new planning inquiry underway now. See: Resist Lancashire Fracking and New Lancashire Threat: Cuadrilla`s Fracking Plans.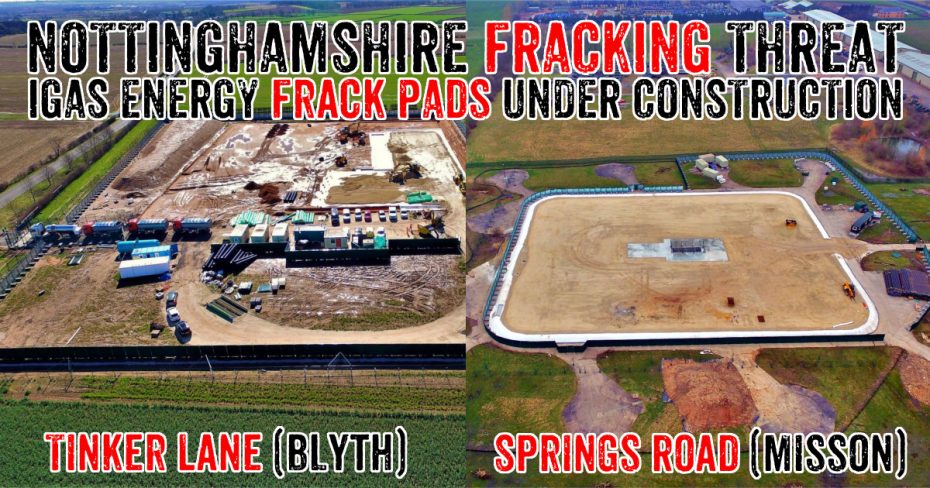 Communities Resist Nottinghamshire Fracking
Trucks are rolling in an attempt to construct the East Midlands first fracking sites at Springs Road in Misson and Tinker Lane near Blyth, in the Bassetlaw district of Nottinghamshire. Frack Free Misson and Frack Free Tinker Lane, supported by groups from across the region and beyond, are resisting these ongoing construction efforts. In production fracking in the region could see thousands of wells drilled across the region, if not stopped. Fracking company IGas Energy has plans to drill up to two test wells, including one horizontal well, at Springs Road and one test well at Tinker Lane. The area is in the Gainsborough Trough, a geological formation where the Bowland Shale is thought to contain gas that could potentially be extract. However, exploitation would require coating the area in thousands of fracking wells. See Communities Mobilising To Resist Threat From Nottinghamshire Frack Pads.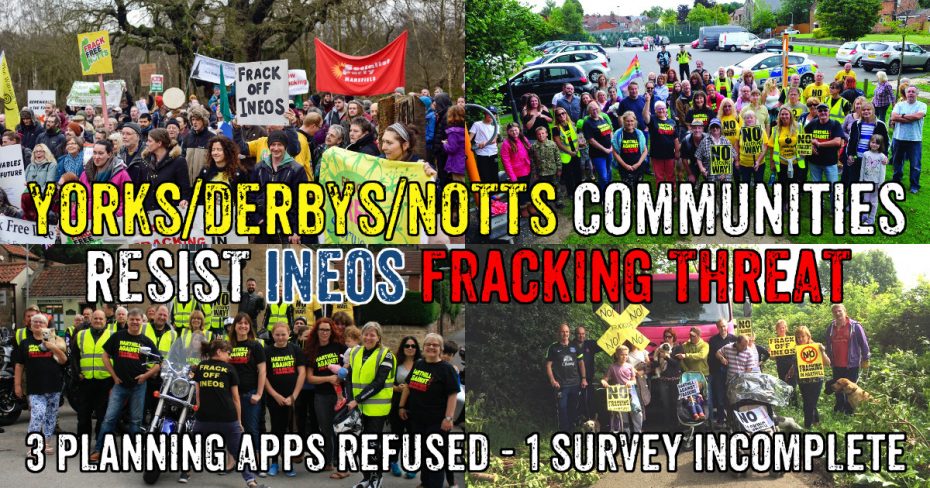 INEOS Fracking Threat To Yorks/Derbys/Notts
Fracking company Ineos Upstream, a subsidiary of the chemical giant Ineos, is not having an easy time in its attempts to impose fracking on the communities living in its licence areas. So far all 3 of its planning applications for test sites have been refused, and must now go to costly appeals, while its fracking survey in Derbyshire/Nottinghamshire which was supposed to be completed by the end of 2018 still has large chunks missing due to resistance from landowners. Ineos's plans for a seismic survey in North Yorkshire are meeting similar problems.The planned Ineos fracking test sites are at Bramleymoor Lane in Derbyshire, and at Harthill and Woodsetts in Rotherham. The planning inquiry for Bramleymoor Lane begins in Chesterfield in Tues 19th June and the Harthill inquiry begins Tues 24th April in Rotherham. See: Local Communities Stand Up To Ineos Fracking Threat and Ineos Fracking Seismic Survey Plans Need Resisting.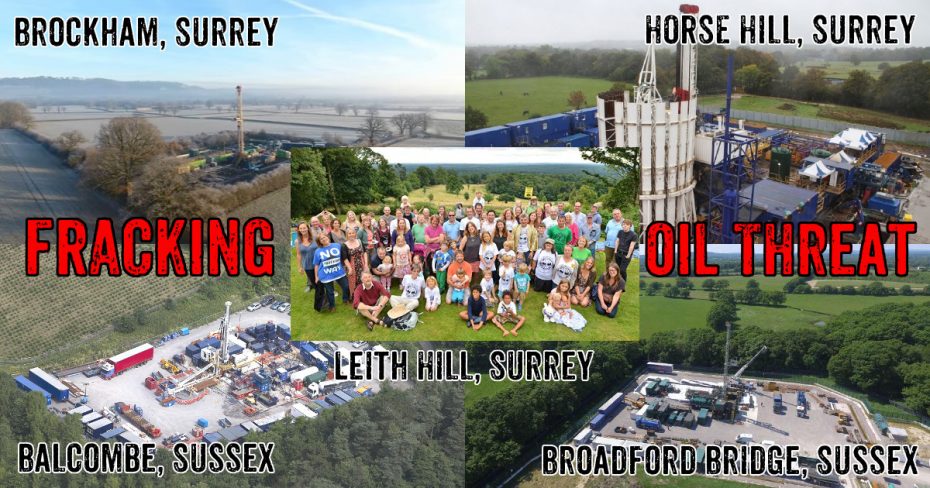 Weald Tight Oil Fracking Threat Intensifying
The fracking of large swathes of Sussex and Surrey for shale/tight oil is a growing threat with four major test sites already drilled and a fifth planned. In West Sussex, Broadford Bridge near Billingshurst and Balcombe have already been drilled, while in Surrey Horse Hill and Brockham. Drilling is planned at a fifth site in Surrey, Leith Hill, before the end of the year. The combination of these developments poses a significant fracking threat in the Weald Basin, threatening not only the local communities near these sites but the whole of South East England. Fracking companies, principly UK Oil and Gas Investments (UKOG), Angus Energy and Europa Oil & Gas are drilling these test wells into the Kimmeridge Clay shale formation, and are now pushing forward with plans to flow test the wells for unconventional tight/shale oil. This is just the beginning of attempts to finance much larger plans to frack whole swaths of Sussex and Surrey. Exploitation of tight oil would mean drilling hundreds or thousands of wells across large areas of Sussex and Surrey. See: Fracking The Weald: The Growing Tight Oil Threat.
Actions & Events
Planning Applications & Appeals
See our interactive map for all planning applications, licences etc. Active planning applications:
Local Anti-Fracking Groups
With around 300+ anti-fracking groups organising against the industry across the country, there are now too many to list in a newsletter. Please see our groups page for the full list. If there isn't one in your community, now would be an excellent time to start one! Contact info@frack-off.org if you want any help or support and definitely check out our guide to campaigning for new anti-fracking groups here: Get Involved.