The Brockham well site is currently one of the most threatening fracking developments in the UK. Due to is status as an already existing conventional production site, operator Angus Energy is hoping to jump straight to producing tight oil from its newly drilled Brockham-X4 sidetrack. This would leapfrog Brockham ahead of more well known fracking sites, such as Preston New Road in Lancashire and Kirby Misperton in North Yorkshire, to be the UK's only onshore unconventional oil & gas production site, as well as massive amplifying the threat of industrialisation of the Weald from fracking.
Additional Information
Answers to some of the wider questions around fracking in the Weald:
The Brockham Well Site is in the PL235 production license and is operated by Angus Energy. The Brockham-X1 conventional oil well was drilled by BP in 1987, and small quantities of oil have been produced there since then. Three more wells have been drilled on the site and Angus has now drilled a sidetrack (without planning permission) to the last well (Brockham-X4), which would target the Portland sandstone, Kimmeridge Clay, and Coralian formations.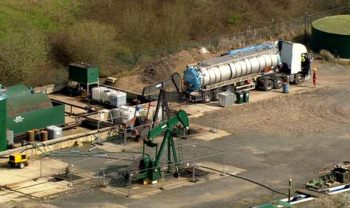 The Kimmeridge Clay shale layer is the main unconventional oil formation in the Weald Basin and was previously targeted by the Balcombe and Horse Hill wells. The planned sidetrack for the Brockham well would provide information to advance shale oil exploitation throughout the Weald. Since the Brockham site is permitted for production, unlike Balcombe and Horse Hill, there is the threat that it could be put onto production very quickly.
These developments are part of a plan to frack the Weald, coating a large part of Sussex and Surrey, in thousands of wells at typical densities of 4-8 wells per square mile. The companies presently involved do not have the billions needed for this however, and are currently involved in gathering data to facilitate such investment. If this creeping drilling and testing is not vigorously resisted the consequences for communities across Sussex and Surrey will be dire.
Planning Applications
Click on the column headers to reorder table columns.
| Licensee | Planning ID | Notes | Submitted | Decision | Status | Consultation |
| --- | --- | --- | --- | --- | --- | --- |
| Angus Energy | 2007/0443 | Installation and operation of a drilling rig on an existing wellsite for: a) workover programme of existing well, and b) the drilling of a new well, for a temporary period until 31 December 2008. | 16/01/2007 | 18/06/2007 | Granted | Closed |
| Angus Energy | 2017/0089 | Installation of on-site facilities comprising hardstanding, site office, site toilet facilities, site security office and mess facility; storage containers; lighting units incorporating CCTV equipment; 2.4 metres high palisade fence and gates; electrical control buildings; portable site generator with 2 no. eclosed fuel tanks, and parking area for car/van until 31 December 2036 with restoration to agriculture (retrospective). | 05/05/2017 | 13/09/2017 | Granted | Closed |
Environmental Permits
Click on the column headers to reorder table columns.
| Licensee | Permit ID | Notes | Comments open | Comments deadline | Status | Consultation |
| --- | --- | --- | --- | --- | --- | --- |
| Angus Energy | SR2015 No1 | Operate a mining waste operation at Brockham Oilfield | 15/11/2016 | 15/12/2016 | Granted | Closed |
| Angus Energy | EPR/BL9763IN/V005 | This variation is for the addition of a groundwater activity comprising the re-injection of produced waters via well BRX3 | 23/03/2021 | | Granted | Closed |