Contents
Jump straight to:
Introduction
Across the country the fracking industry is on the offensive, but in 2017 fracking resistance has never been stronger. Over 300 community groups (and rising) are preparing to meet this challenge. Low oil prices are restricting the investment cash these companies need to survive but they are busy gathering geological and social data with the intention of securing further investment when oil prices inevitably rise again. The fracking fight is now moving into a new phase where causing physical delays and ramping up costs will hold the key to deterring future investment in the industry.
Cuadrilla's flagship project at Preston New Road in Lancashire is the largest fracking tests planned to date in the UK with 4 horizontal wells planned. Construction has been underway since January, but work on the frack pad is already a month behind schedule. There is a rolling blockade at the site (9am-3pm weekdays) and regular pop-up demos outside subcontractors and suppliers as far away as Buxton in Derbyshire. A number of subcontractors have pulled out due to the massive community opposition (see below). The 2 years of drilling, fracking and testing Cuadrilla has planned at Preston New Road in Lancashire will send 20,000 fracking trucks spreading out across the country with numerous impacts far from Lancashire (e.g. fracking waste being dumped or transported through your community). When drilling finally begins the tentacles of this single fracking sites will spread, with trucks hauling frac sand, radioactive liquid and solid waste and equipment across the country from Aberdeen to Great Yarmouth.
If you don't live in Lancashire fear not (or better still fear a lot), many areas including Derbyshire, Nottinghamshire, Surrey, Sussex, and Yorkshire are under increasing threat from the other dirty UK frackers; IGas Energy, Ineos Upstream, UKOG and Third Energy.
Take Action
What can you do? Everyone can make a difference in the fight against fracking:
Get organised: Is there a anti-fracking group defending your community? If so, join it! If not, form one!
Spread the word: Organise public meetings, film screenings, street stalls etc.
Support other communities: At any point in time various communities are under threat and need your solidarity
Do you live near a fracking support site? Check out our factsheet detailing Cuadrilla's plans. Your community may be threatened with impacts (e.g. fracking waste being dumped or transported through your community) even if you live hundreds of miles from Lancashire.
Frack Off can help with information, support or outreach materials. Contact info@frack-off.org and see our get involved page.
Latest News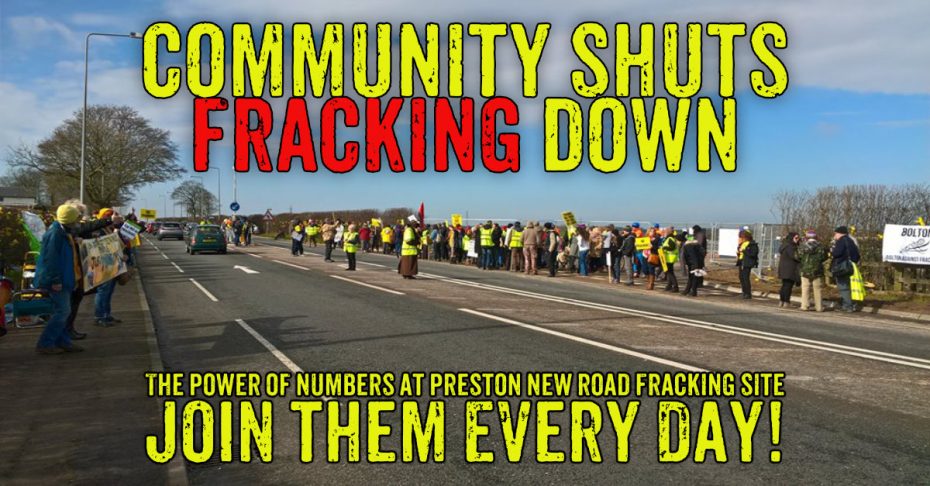 Ongoing Resistance To Fracking In Lancashire
Fracking company Cuadrilla Resources has been trying to construct a new frack pad at Preston New Road for over 3 months, a month longer than originally planned. But the local communities are standing their ground and there is a daily rolling blockade outside the site. Resistance has also spread to sites supporting the construction with regular popup demos outside construction and transport contractors as far away in Buxton in Derbyshire. A number of subcontractors, Armstrong Aggregates, Moore Readymix and Cemex, have already withdrawn from the fracking project in the face of massive community opposition. Cuadrilla's plans call for drilling and hydraulically fracturing 4 horizontal wells at the Preston New Road over a 2 year period, requiring over 20,000 truck movements and produce millions of gallons of toxic and radioactive liquid waste. See: Resist Lancashire Fracking and New Lancashire Threat: Cuadrilla`s Fracking Plans.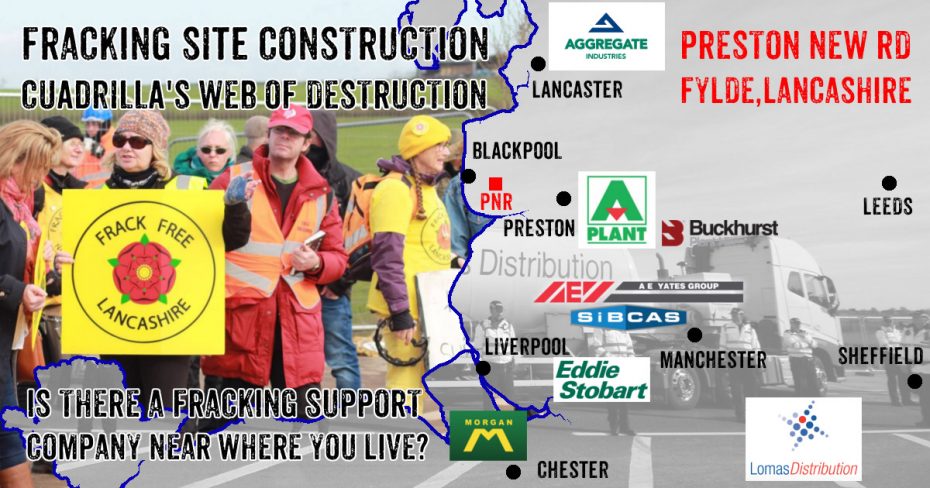 Network Of Fracking Support Sites Across Country
The Preston New Road site is already spreading tentacles beyond Lancashire, with over a thousand trucks bringing equipment and materials from as far away as Buxton in Derbyshire to construct the frack pad. Resistance has also spread to these support sites with regular popup demos outside construction and transport contractors. Once the pad is constructed, tens of thousands of fracking trucks will traverse the country from various ancillary sites. The site will require over 7,500 tons of frac sand (from Cheshire and/or Norfolk) and produce over 13 million gallons of toxic/radioactive waste, moved off site in thousands of road tankers and dumped in Leeds/Middlesbrough/Stoke-on-Trent. Some communities are threatened by plans for an expansion in sand mining by Sibelco, the world's largest supplier of frac sand, while others are threatened be potential frac waste dump sites, such as the Knostrop Treatment Works in Leeds. Check out support sites near you: Resist Lancashire Fracking.
Weald Tight Oil Fracking Threat Intensifying
The fracking threat is also growing in Surrey/Sussex where Angus Energy has recently drilled a side track to an existing conventional well without planning permission, at Brockham, targeting the Kimmeridge Clay shale formation for tight/shale oil. Preparatory activity is now underway at the Broadford Bridge near Billingshurst in West Sussex, where UK Oil & Gas Investments (UKOG) is also targeting the Kimmeridge Clay shale formation and the community is mobilising to resist. A number of sites, including Horse Hill (UKOG) and Leith Hill (Europa Oil and Gas) in Surrey, are also threatened with drilling and testing targetting the Kimmeridge Clay. A decision on a planning application for extra security fencing at Leith Hill has been delayed until at least June. A camp has been set up at the planned site, has come under legal threat from Europa and needs support. Exploitation of the Kimmeridge Clay would require thousands of wells to be drilled across the Weald Basin. See: Fracking The Weald: The Growing Tight Oil Threat.
INEOS Fracking Threat To S. Yorks/Derbys/Notts
Fracking company Ineos Upstream has submitted a scoping requests for fracking sites on Barmleymoor Lane at Marsh Lane near Eckington in Debyshire, and Common Road near Harthill, Rotherham. These are the first sites in Ineos's exploration plans for its million acres of fracking licences. A recent Ineos exhibition in Marsh Lane attrached a large counter demonstration of local residents outside the venue. Ineos is also planning to carry out a seismic surveys across the its licence areas and is targeting at 500 square miles area of South Yorkshire, Derbyshire and Nottinghamshire first. Ineos has contracted Fisher German Priestner as their land agent to try to gain access to the land they need for the surveys. For more info see: Ineos Fracking Seismic Survey Plans Need Resisting and Seismic Testing Is Happening In My Area – What Should I Do?.
Actions & Events
North West
Yorkshire
East Midlands
South East
Weekly Gathering In Billingshurst – Sat 8th, 15th, 22nd 29th Apr 2pm – 4pm, next to Blacksmith's Arms, corner of Adversane Lane and A29, West Sussex RH14 9JH. Contact keepbillingshurstfrackfree@mail.com for more details
Leith Hill Campaign Stall – Sat 8th Apr 10am-2pm, Dorking High Street, Dorking RH4 1SG More Info (Facebook)
Public Meeting: Drilling On Your Doorstep – Sun 30th Apr 7-9pm, Pulborough Village Hall, Swan View, Lower Street, Pulborough RH20 2BF More Info (Facebook)
South West
Planning Applications & Appeals
See our interactive map for all planning applications, licences etc. Active planning applications:
Local Anti-Fracking Groups
With around 300+ anti-fracking groups organising against the industry across the country, there are now too many to list in a newsletter. Please see our groups page for the full list. If there isn't one in your community, now would be an excellent time to start one! Contact info@frack-off.org if you want any help or support and definitely check out our guide to campaigning for new anti-fracking groups here: Get Involved.