East Midlands Fracking Alert!!! – Ineos Seismic Survey Threat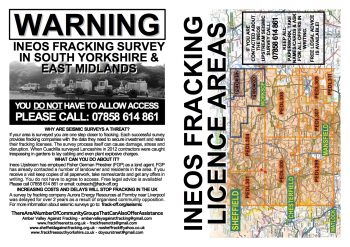 Not content with importing shale gas at great cost to U.S communities, Swiss-based petrochemical group Ineos now has the exclusive right to explore for hydrocarbons across 1 million acres of the East Midlands, Cheshire, Scotland & Yorkshire. Ineos are committed to conducting 700 sq km of invasive seismic surveys and drilling 5 test wells. If allowed to go ahead Ineos and the fracking industry as a whole will be one step closer to drilling 1,000 of wells across the UK.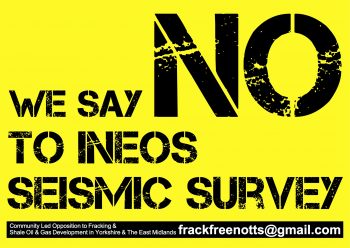 There is an open public information event at the Carlton in Lindrick Civic Centre to help residents and other members of the public with information regarding Ineos's proposed Seismic Testing in the area of Carlton in Lindrick, Wallingwells and surrounding areas.
Event Details here…
An organised community is THE best defence against the Fracking industry. Get our step-by-step guides and start planning an effective Anti-Fracking campaign where you live here…