Don't be fooled by Ineos executives talk of a "science stage" and "testing". They are currently putting together equipment and logistics for a full scale invasion of Nottinghamshire, Derbyshire & Rotherham in an attempt to source gas for their chemicals business.
For a long time there has been a concern that if the fracking industry became permanently stalled in the UK, the Government would eventually resort to the compulsory purchase of land and the army would be called in to carry out the drilling and fracking!!! Leaving aside the fact that neither the Government or the army have the capacity or resources to do this, the prospect was chilling and mostly evoked by road and airport building projects in previous decades. However with Ineos entry into the UK shale scene in 2015, a new reality has been cast. Extreme Energy extraction at the hands of ethically bankrupt asset strippers Ineos takes us far further into a neo-liberal dystopia than state funded fracking ever could. This privately owned multinational (piloted by megalomaniac Jim Ratcliffe, a man who's response to climate change was to try and build a luxury beach house on hydraulic jacks) is planning a full scale invasion of 1.2 million acres of the UK with a private army and without the need to purchase any land.
Ineos Gambles On UK Shale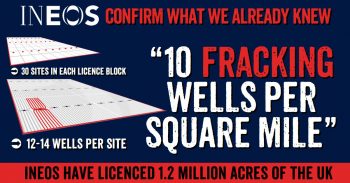 Too big to fail Ineos are no strangers to controversy and near disaster after dismal treatment of their workforce and regular safety scares at their refinery at Grangemouth. Not content with a £350m project to import U.S shale gas, Ineos started buying up licence areas in Scotland and then went on to bid for more licenses in the 14th Onshore Licence round. By March this year Ineos Upstream had control of 21 licence areas across Cheshire, the East Midlands and Yorkshire. Behind the scenes they embarked on a spending spree pulling together the expertise and executives they needed to enter into an entirely new sector (Jim Ratcliffe also plans to enter the automotive industry). Their PR machine released a spate of post truth publicity about the benefits of shale gas and promised unprecedented theoretical kickbacks for communities. Most significantly however, they accidentally revealed their plans for production with diagrams of 30 sites and 398 wells in each 10km square licence block. For the first time in the UK a fracking company let slip the true scale of it's plans.
Ineos Plans Revealed
It must be remembered that for Ineos this is not about supplying gas for anyone else, it's about securing gas feedstock for their chemicals businesses, at or below the import price. At cosy "consultation" events with communities and councils Ineos executives talk as if they are a benevolent nationalised industry, but never reveal their true intentions or detail of their long-term plans. Now with the help of a number of whistle blowers and keen eyed community groups, we have started to pieced together how far Ineos are prepared to go in pursuit of profit and their cynical development of an entirely new military logistics company to deliver it.