2.1 Quake Hits Blackpool, Weeton, Westby, Peel, Kirkham, Wrea Green, Great Plumpton and Lytham St Annes.
The size and frequency of seismic events are again ramping up in the area surrounding Preston New Road near Blackpool. More than 90 tremors have occurred since fracking resumed there less than a fortnight ago.
These seismic events are just one of numerous impacts that occur at the shale gas exploration stage but are nothing compared to the impacts caused when the industry goes into production with hundreds of sites and thousands of wells strewn across rural and suburban areas. With 10 million acres of the UK licensed for fracking this threat is motivating communities to get organised and defend themselves.
A spokeswoman for Frack Free Lancashire said:
"We are livid that we are once again, being put in harm's way for an experiment that we didn't ask to be part of.

"Why are our communities being forced to accept this dangerous and contemptuous industry, when it is clear that they have zero control over the impacts that fracking brings with it?
FRACKING THREAT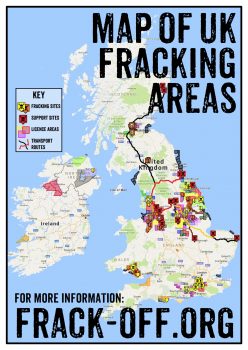 The Preston New Road site is Cuadrilla's flagship fracking test project, where they have planning permission (from central government) to drill and hydraulically fracture 2 shale gas wells. This requires more than 10,000 vehicle movements in and out of the PNR site, with fracking trucks bring equipment and materials and disposing of waste, to and from support sites across the country. Take a look at our factsheet and find out what support sites could be near you.
Cuadrilla's speculative business model means that they need good results from these test to get more investment, but that includes not just what they find under ground but the level of resistance they encounter. That is where communities across the country come in – by making Cuadrilla's fracking plans as difficult, slow and expensive as possible!
Join the fracking resistance and support Lancashire's threatened communities! Joinor form an anti-fracking group where you live. Read up on how you can fight frackingwhere you live.
Check out our factsheet about Cuadrilla's plans, your community may be threatened with impacts (e.g. fracking waste being dumped or transported through your community) even if you live hundreds of miles from Lancashire.