Coal Seam Gas (aka Coal Bed Methane, see Dart Energy's plans for Airth Scotland) has been hitting the headlines in Australia in a big way. When Metgasco tried to establish a site at Glenugie in New South Wales local residents were quick to react and started a blockade. Metgasco's drilling contractor AJ Lucas (who own a 42% stake in UK frackers Cuadrilla) struggled to get the drill rig and ancillary equipment on to site. The blockade continued with a succession of groups joining the protest and an impressive catalog of direct action techniques employed.
Metgasco are used to getting their own way, with friends in high places they have not had to deal with joined up community resistance before. What is unique and inspiring about the Glenugie blockade is that it didn't just stop when the rig arrived and the drilling commenced. It continued with fresh intent to delay and disrupt drilling at the site and then stepped up a gear to prevent the drill leaving, thus protecting the next community on the drillers hit list.
That community then turned out and confronted the drillers at Doubtful Creek!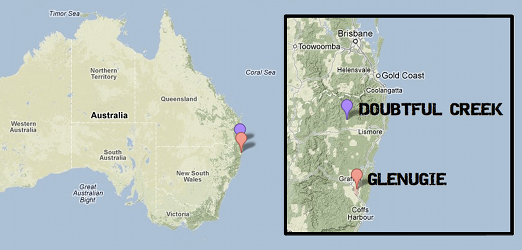 These actions are ongoing and you can find out more by following the links below. What some seasoned UK activists may find horrifying is that most of the actions and organisation are conducted and planned in plain sight on twitter and facebook! We see this as indicative of a major change in the fight against unconventional gas in Australia. Total community resistance in the face of total disregard for people and planet.
Watch this space… 
Link to Glenugie Blockade Timeline>>
 Link to Doubtful Creek Blockade Timeline>>