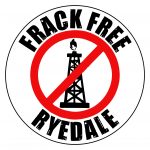 Press and media enquiries: ffrcomms@gmail.com
General enquiries: frackfreeryedale@gmail.com

Frack Free Ryedale was set up in July 2014, after local residents attending two talks organised in local village halls by Frack Off. Since then our group has organised numerous talks, film shows and other events to spread the word about the dangers of fracking and has been campaigning vigorously against Third Energy's application to frack at Kirby Misperton.
There are now ten local groups under the Frack Free Ryedale umbrella, all working hard within their own communities to stop fracking from destroying our environment, industrialising our beautiful landscape, polluting our air and water and threatening thousands of rural jobs in tourism and agriculture.
If you live in the area, please join us. Together we can stop fracking.