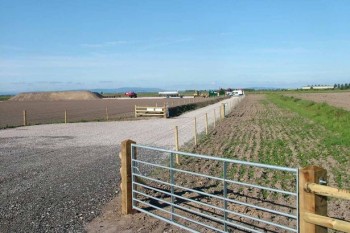 27th July 2010 – Cuadrilla submits application 08/10/0973 for an exploratory borehole and testing of hydrocarbons
20th October 2010 – Lancashire County Council approves application 08/10/0973. Work to be completed within 18 months of commencement and conditions include an ecological method statement to protect wintering birds
1st February 2011 – Lease begins between Reaper Ltd. and the Old Hollows Gun Club, to cover period up to 31st January 2014
4th February 2011 – Ecological method statement for application 08/10/0973 (see update of 30th August 2011)
28th March 2011 – Cuadrilla's development begins at Becconsall
17th August 2011 – Letter from Phil Mason, Cuadrilla, to Jonathan Haine/Rob Jones of LCC, that drilling will start on 22nd August 2011
30th September 2011 – Cuadrilla drilled beyond 30th September 2011 and so breached the planning condition designed to protect wintering birds at a nearby sanctuary.
30th August 2012 – Update by Ecology Services to Cuadrilla on bird surveys – refers to method statement but no detail about mitigation
19th September 2012 – Cuadrilla submits application 08/12/1032 to extend well testing and restoration until 28th March 2014
27th September 2012 – Scheduled restoration deadline for Becconsall under application 08/10/0973
6th June 2013 – Letter from Phil Mason, for Cuadrilla to LCC planners requesting amendment to application 08/12/1032 to include reservoir diagnostics programme and extend restoration until 28th September 2014. Letter refers to talks with local landowners about field management as mitigation for loss of bird winter grazing in 2013-2014.
10th July 2013 – Email from Claire Storey, of Natural England, to Rob Jones, LLC planner, objecting to application 08/12/1032 on grounds of lack of information
16th July 2013 – Cuadrilla signs agreement with Reaper Ltd permitting the use of lands north of Marsh Road to maintain in a suitable condition for wintering birds from 31st October 2013-31st March 2014 as a condition of amended application 08/10/0973
16th July 2013 – Cuadrilla signs agreement with Robert Ball and Sons, Hundred End Farm, J Sephton, Bonny Banks Farm, and Bill Johnson, Marshfield Farm, for use of lands north of Marsh Road, for same period and purpose
14th October 2013 – Letter from Stuart Perigo, LCC, to Phil Mason, Cuadrilla Resource, saying LCC requires an EIA before it will consider application 08/12/1032 and indicates mitigation on impact on wintering wildlife has not been approved.
1st February 2014 – Lease between Reaper Ltd. and the Old Hollows Gun Club in place, to cover period up to January 2017
24th March 2014 – Letter from Patrick Waring, Ecology Services, to Mr C Hird, Development Management, Cuadrilla, on recommendations for bird mitigation, including no shooting, daily wardening and provision of food
27th March 2014 – Cuadrilla's new planning application LCC/2014/0047 received and validated by Lancashire County Council for three-year permission to carry out pressure monitoring, followed by plugging and abandonment
17th April 2014 – Email from LCC ecologist, Sarah Manchester, to LCC planning officer, Rob Jones, which says mitigation including supplementary feeding, were being progressed under earlier application "but it is not clear whether these were/are being implemented as part of the current proposals"
1st May 2014 – Email from Kate Berry, Natural England, to LCC planning officer, Rob Jones, asking whether proposed mitigation is in addition to that already in place, what is the location of additional fields and are agreements in place.
20th June 2014 – Ecology Services submits report of winter bird surveys to Arup
22nd September 2014 – Letter from Phil Mason, of Cuadrilla, to Stuart Perigo, of LCC, withdrawing application 08/12/1032
23rd September 2014 – LCC planning committee approves application LCC/2014/0047 but does not issue permission
14th November 2014 – Letter from Francis Egan to Stuart Perigo, LCC planner, confirms replacement land agreements are being secured and will be in place up to 31st March 2015
1st May 2015 – The decision notice is finally issued and published on the council's website as planning officers prepared to begin the May bank holiday. There are no details of the Section 106 agreement on the council website. A note says:
"Due to the size of the S106 agreement that accompanies this decision. It is not possible to display the document today it will appear here shortly"
The agreements signed on the 1st May are now available 1 2
18th Nov 2015 – Cuadrilla have decided not to pursue any further exploration at the site and plan to plug the well with cement and restore the site before planning expires at the end of Oct 2016. 1 2
This timeline was created by Drill Or Drop and Frack Off with the assistance of Lancashire Community Groups.