Live news from anti-fracking actions around the country
4.30pm We're finishing up here – many thanks to everyone involved, it's been a fantastic day. Thanks for reading!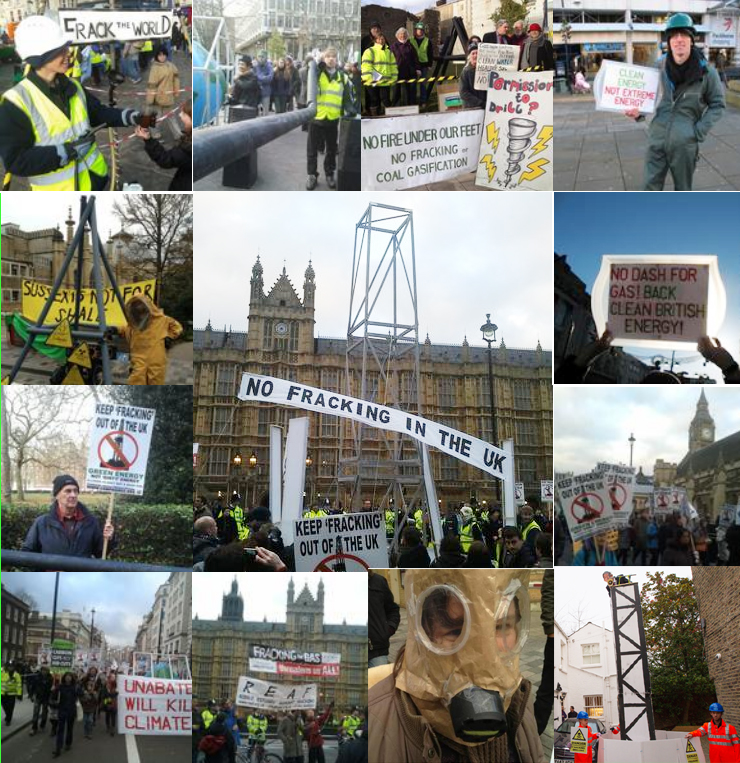 4.02pm Tim Padmore from Kirklees Campaign Against Climate Change: "Climate change means that it's essential that we keep unconventional fossil fuels – like shale gas and tar sands – in the ground. In the days after the government's failed Energy Bill, we want to remind the public that there is a climate crisis and there is a sustainable and viable alternative to conventional fossil fuels and extreme energy." See what's been happening in Huddersfield here.

3.57pm London. Says it all: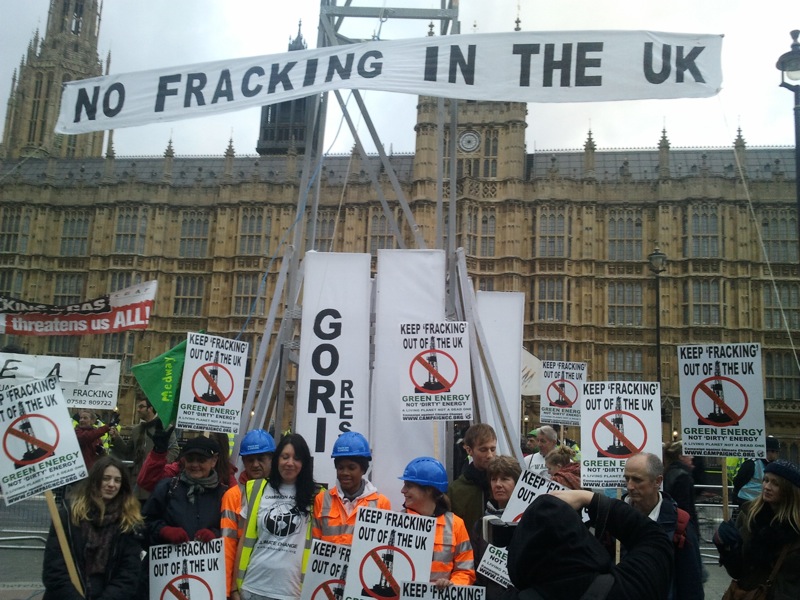 3.50pm Gas lobbyist Nick Grealy has been spotted in London trying to get interviewed by the BBC. An activist elbowed him out of the way and did the interview herself. Cuadrilla pay Grealy to advocate on their behalf – although he never admits it. Except here (search for 'Grealy')
3.44pm Campaginers from all over the country have delivered a letter to Number 10. With them was Gayzer Frackman, from Frack Free Fylde who had cycled from Lancashire. More Picture…
3.21pm Amid all this fantastic community organising, let's not forget that there are powerful advocates of fracking who stand to make a whole lot of money from hydraulic fracturing, notably Lord Browne, Lord Green, Lord Howell & Baroness Hogg. Reigning in these vested interests will be key in the fracking fight.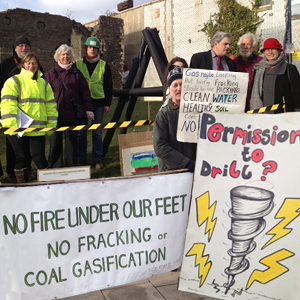 3.14pm Now Safe Energy Wales are at it, out on the streets of Swansea today (see right).
3.06pm News just in from Brighton where Sussex Extreme Energy Resistance have hit the street. The group started near the Jubilee Square library with their hand-crafted rig & a sound system playing fracking & earthquake noises (!). A fearful security guard called then called cops for this terrible environmental intrusion.
There followed spontaneous procession to nearby New Road, with thirty people in gas & animal masks, carrying the drill rig aloft, headed by a giant banner – 'Sussex is not for Shale'.
At their destination, organisers read out statement of support from local MP Caroline Lucas & continued to played loud noises whilst supporters drew fracks into the ground iwth giant chalks. For more details of actions around the country have a look here.
2.51pm Reports coming in of more than a thousand people on today's fracking demonstration in London!
2.43pm Big up to our uber-editor here at Frack Off for producing this funky short video of today's Get Fracktious event in London:

2.38pm Further to our previous point: the decision in the European parliament last week not to ban fracking was – contrary to reports – a great success for a movement that is only a year old. A stunning 262 MEPs voted to ban hydraulic fracturing, an amazing  success considering no-one had heard of it a year ago.

2.31pm The media are busy telling the world that a resumption of UK fracking is imminent. Maybe true, maybe not – they've been saying the same thing since January. But whatever happens with Osborne's statement on Wednesday, fracking activists are to be congratulated: the process has been held up for 18 months , exploration costs been sent soaring, and the movement grows, as today's events show.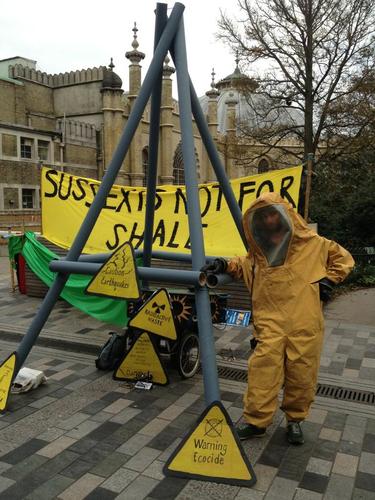 2.17pm Folks getting active in Brighton with Sussex Extreme Energy Resistance (see pic). Brighton and Hove Council recently took the step of declaring the city a 'Frack Free Zone', although drillers still have plans to frack in Sussex, including Celtique Energy in the South Downs National Park.
2.10pm Best foot-in-mouther to date, incidentally, goes to Eytan Uliel, executive at Dart Energy who have plans to drill 22 Coal Bed Methane wells in Scotland. In his verbose blog, Uliel revealed that the driller is also exploring next to the Auschwitz concentration camp in Poland.
2.08pm Another foot-in-mouth moment from Cuadrilla executive Francis Egan, talking about when fracking might be resumed: "You've got to go through the planning process, which involves environmental assessments and public consultations and then a decision by the council,"  Egan said.
Actually, Mr Egan, you've already gone through the planning process, as we know very well. Your public consultations are voluntary, environmental 'assessments' desultory, and any council decision is already part of the planning process. Oh, and your drillers aren't any good either, having cocked up 50% of the wells you've drilled so far.
1.58pm The Guardian is reporting on the days events here. Ominously, 'sources' expect Chancellor George Osborne to greenlight fracking this Wednesday. And that's exactly why everyone's out on the street today.
1.55pm Details of nationwide activities coming in thick and fast now. Check out our page here to see what's going on where.

1.49pm Some excellent work from the good people at Frack Free Somerset – see here for more. ITV West are reporting it here, apparently Yoko Ono is there! Or not. Yoko?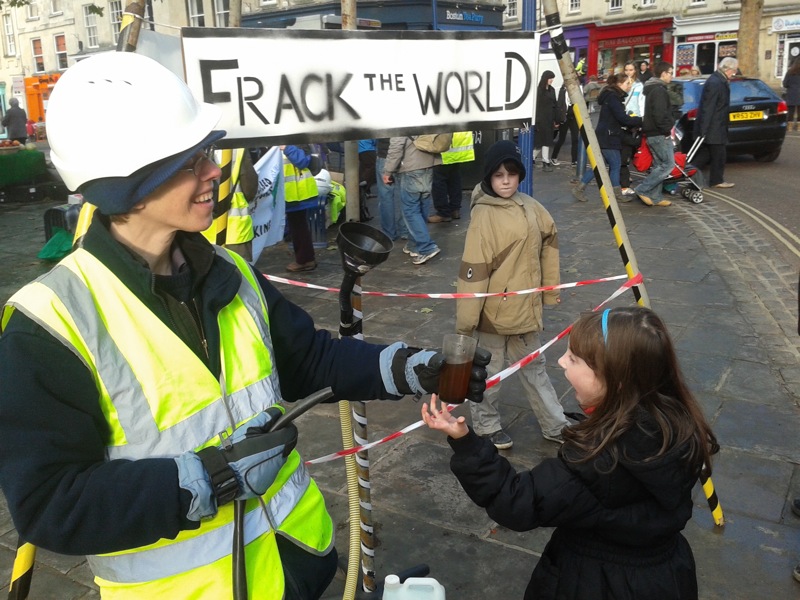 1.44pm OccupyLSX are livestreaming the 'Get Fracktious' event and the building of a pipeline in Parliament Square. Nice! -

1.30pm It's just been pointed out to us that the fracking Czar Lord John Browne has written a book! Yes, this opus is titled 'Beyond Business' and presumably details provides a step by step guide on how to further your business interests… by joining the government. Gratifyingly it's available on Amazon for, er, 1p. More pertinently, journalist Greg Palast raises some interesting questions about Browne in his book, 'Vultures Picnic'. Like: how much cash was in the suitcase that Lady Thatcher carried to Azerbaijan for you, Mr Browne, to pay off the Azerbaijani president in return for drilling rights to the Caspian Sea? Recommended reading.
12.20am We've just spoken to Vanessa Vine, an excellent campaigner on fracking who – along with residents of Falkirk, Belfast, the Fylde, the Ribble Estuary and the Vale of Glamorgan – is off to give a letter to David Cameron at 2pm today. Sensibly the letter calls for a ban on shale gas and coal bed methane exploitation in the UK.
"We're feeling good and really enjoying the solidarity from around the country today. There've been loads of petitions, lots of press interest, and excitement on social media. I'm under no illusion that the government is going to do a U-turn on energy policy. But I hope we can get across from the regions that there is real resistance to this crazy gas rush"
Thanks Vanessa!

11.58am The monstrosity below is one of fracker Browne's other investments: the Clipper South drill platform in the North Sea. The Clipper South is scheduled to begin offshore fracking sometime soon. Currently UK regulations are the same for both onshore and offshore drilling. So if onshore regulations are changed (thus taking into account community concerns), by implication so too should offshore. And that would imperil not only Cuadrilla, but Fairfield Energy, and numerous other Browne projects currently below the radar.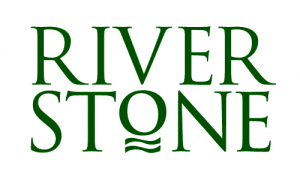 11.26am If you've ever a moment to spare in London, feel free to drop in and see the UK's fracking Overlord: John Browne. He's based at his Private Equity firm, Riverstone (through which he owns Cuadrilla): 3 Burlington Gardens, London W1S 3EP, P 44 (20) 3206 6300. It's just round the corner from Savile Row, which is always handy for those of a sartorial bent.
11.24am Just heard there are more than 100 people out on the street in Swansea. See their Facebook page here.

11.14am Looking forward to hearing from the many local groups taking action against fracking today!
11.00am So: Osborne want to create an Office for Shale Gas? Leaving aside the – obviously political – question as to wtf the chancellor is doing making decisions on energy, he might want to take a little peek at the following links, all of which spell one thing: 'no community consent':
- A Coal Bed Methane application in Somerset? 636 objections from locals (scroll down and look at em all).
- A similar application in Airth, Scotland? More than 400 objections from locals. See here and here.
- And the last planning application from Lord Browne's company Cuadrilla had at least 200 objections in Lancashire.
Are you listening, George?
10.22am More on Browne's cronies: – Andrew Witty, CEO of GlaxoSmithKline is also – presto! – a non-executive at the Dept of Business, Innovation & Skills. And who hired him? Well, one Mr Lord John Browne. Lord Browne used to be a non-executive at GlaxoSmithKline; his job in the Cabinet Office is to recruit more non-executives like himself. Perhaps Browne could get another job: making revolving doors.
9.32am Lord Browne has hired nearly fifty of his cronies to government. As a so-called 'lead non-executive' Browne works in the Cabinet office and is in charge of getting his mates onto government boards. You can see a list of this sorry bunch here. Meanwhile, here's how fracker Browne works his influence: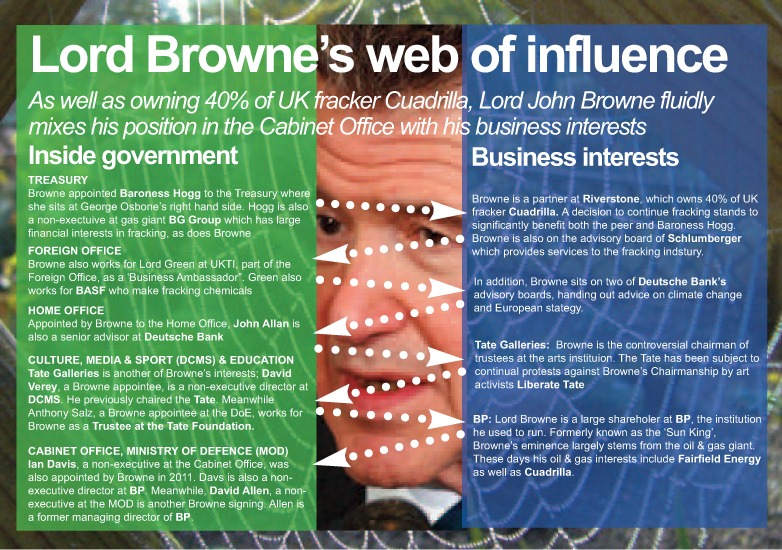 9.06am Well now we know where we're taking our rig next. An Office for Shale Gas is to be created, according to  The Independent. A one-stop shop for the likes of Lord Browne and his cronies to profit while they pollute our water.
8.54am 64% of the UK is for sale to the drillers, according to this Greenpeace report. That's why we're here at Lord Browne's house today – as Chairman of the UK's first fracker, Browne will make millions if we allow this to happen.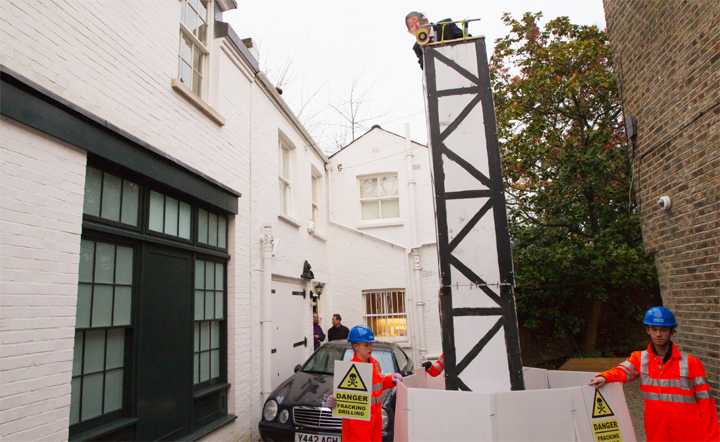 8.32am This morning brave activists from Frack Off (London) penetrated the heart of London's Chelsea. Awed by the opulent surrounds, they took with them an 20-foot drilling rig which they then erected outside the home of the Chairman of UK fracker Cuadrilla Resources, Lord John Browne.
Millionaire Browne – as well as his Cuadrilla position – also works in the heart of government. As part of the Tory's 'modernisation' drive, Browne responsibility is to hire businessmen to work alongside the likes of Chancellor George Osborne, DECC minster Ed Davey & the like.
And with a decision to resume the controversial technique of hydraulic fracking due any day, Browne stands to directly profit by the decision.
---